THE UNMUTUAL PRISONER WEBSITE
NUMBER SIX ART CARDS
AVAILABLE FOR SALE HERE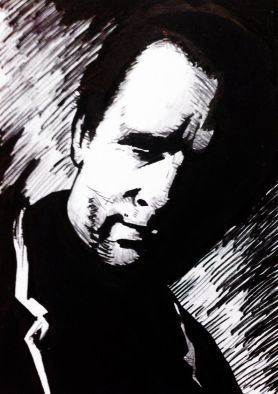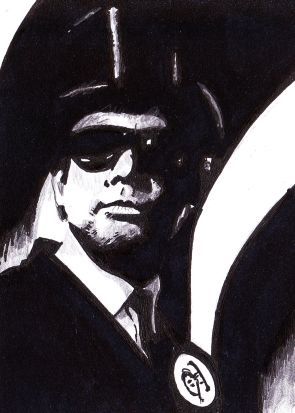 Original artwork on Personal Sketchcards (2.5 x 3.5 inches) by Brian Gorman
Executed in graphite and coloured ink, signed and dated by the artist, Brian Gorman, and individually polybagged. The images shown are of the original illustrations upon which all subsequent cards will be based (with 100% accuracy).

Personal card stock - not part of any official set.
Please note: these are one-off, original pieces of artwork, not prints.

About Brian Gorman:
Brian has performed his acclaimed one man play 'EVERYMAN: The Story Of Patrick McGoohan – The Prisoner' at a variety of venues across the UK, and the script is currently being adapted as an audio production for CD.

Brian is a freelance artist/writer and actor based in the UK.

His work has been published in magazines, newspapers and graphic novels - including Starburst Magazine, Green World (The Magazine Of The Green Party), The Liverpool Daily Post, Chester Gateway Theatre, Western (an Accent UK anthology), and seen on tv (ITV1's Martina Cole's Lady Killers). Current work includes a 3 book deal with Simon & Schuster to write and draw graphic novels on Manchester bands (Joy Division, The Smiths, and The Stone Roses). As an actor, Brian has appeared on television, film and theatre, as well as having leading roles in commercial, educational and corporate videos. Most recently he has played mass murderer Thomas Hamilton in 'The Dunblane Story' (The History Channel), and train robber James Hussey in 'Mrs Biggs' (ITV1). He has also appeared in 'Captain America' (2011), Hollyoaks, Blue Murder, Apparitions, and Cold Blood. He is currently adapting the cult sci-fi film 'Blade Runner' for the stage.

Find him on Facebook:

https://www.facebook.com/BrianGormanIllustration