KATHERINE THE GREAT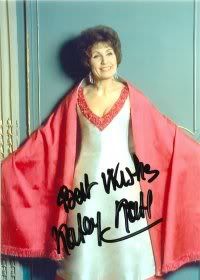 The Unmutual Website was delighted this week to receive a message from Nick Hall. Nick, in December 2011, launched the official website, in conjunction with the lady herself, of actress Katherine Kath, best known to readers of TUW as the wonderful Madame Engadine (left) from the highly regarded episode "A, B, and C".
The website, which is still under construction, already contains a wealth of information and a wonderful collection of rare photographs spanning Katherine's long and illustrious life and career and there are now available exclusive signed photos of Katherine in "The Prisoner", with all profits from the sales of the photos donated to the NSPCC, click HERE for their ebay page.
The Unmutual Website is delighted to link up with and support http://www.katherinekath.co.uk, and the website comes highly recommended. TUW will bring you any new developments as soon as they are announced.
With thanks to Nick Hall and Katherine Kath.
News announced: 8/3/2012 News Archived 12/2/2013